Martha Eddy, RSMT, CMA, Ed.D., founder and director of the Center for Kinesthetic Education (CKE), brings to the fields of health, wellness and education, her strong belief in the power of movement and somatic-awareness to enhance lives. She received her doctorate from Teachers College, Columbia University in movement science and education in 1998 and has a Masters of Arts in Applied Physiology and a Bachelors degree in Dance Education. She was an adjunct assistant professor in the Teachers College, Columbia University Dance Education Program for ten years.
At CKE, in New York City, she maintains a private practice as a Registered Somatic Movement Therapist (RSMT) that involves teaching clients to bring awareness to their movement coordination to enhance functional and expressive capacity. She also makes referrals to professionals for a wide variety of services. She especially enjoys her work with infants and children with behavioral, perceptual, and/or motor dysfunctions. This practice draws on her decade of training and teaching in neuro-developmental movement therapy with occupational therapist, Bonnie Bainbridge Cohen, and physical therapist, Irmgard Bartenieff. Her practical application of this work provides a foundation for her SOMAction Movement Therapy Training held biennially in New York and Massachusetts and affiliated with Moving On Center in California, a professional training program that she co-founded with Carol Swann.
She maintains her position as founding co-director and Director of Somatic Studies at Moving On Center -- The School of Participatory Arts and Research (MOC) that opened in September 1995 at Malonga Caselourd Cultural Center (formerly Alice Arts) in Oakland, California. The school's mission is to train movement professionals to be leaders who use mindful physical activity in new, somatic approaches to health, education and performance in their communities around the world. MOC is unique as a somatic movement education program that integrates creative expression inclusive of performance in its educational methods. Eddy continues to provide curricular oversight for the school.
Moving On Center provides all of the introductory courses for Eddy's SOMAction Movement Therapy Training (SMTT), a professional program that teaches Eddy's dynamic intervention cycle as well as principles and therapeutic strategies from Body-Mind Centering and Laban Movement Analysis. The SMTT can be studied in NY, MA or CA and through independent study in various locations around the world.
Martha Eddy has designed and taught courses in major universities including overviews of the field of somatic education and the relationship of kinesthetic learning to:
anatomy & physiology
dance and dance pedagogy
choreography
exercise physiology
fitness and weight loss
kinesiology
movement analysis
movement science
neuro-muscular re-patterning
perceptual-motor development
physical education pedagogy
qualitative movement research design
violence prevention
vision enhancement
Her academic positions have been with Antioch New England Graduate School, Columbia University, Connecticut College, Hampshire College, Hope College, New York University, the New School for Social Research, and San Francisco State University. She has provided curricular oversight to the development of somatic movement education and therapy programs including Springfield Colleges in Massachusetts and Luther College, in Iowa.
She is currently on the faculty of the State University of New York (SUNY) ­ Empire State College (ESC), and many of her courses are part of the doctoral level program at Santa Barbara Graduate Institute in Pre- and Peri-natal Psychology or Somatic Psychology. She teaches a course for NYC educators and therapists on Conflict Resolution through Movement and Dance through the Dance Education Laboratory in New York City, also affiliated with SUNY ­ ESC. She guest teaches at diverse training programs and universities internationally as well as having taught in most of the major dance festivals throughout the United States, Canada, and Europe.
She has taught conflict resolution, movement, dance, physical and somatic education pedagogy to teachers and to youth in schools, universities, independent studios, and at conferences nationally and internationally. She periodically teaches open classes at Movement Afoot and at the Riverside Church Wellness Center where she served as Coordinator of the Wellness Center for two years.
Martha Eddy serves as a consultant to the NYC Department Education (e.g., developing the K ­ 12 dance curriculum, Blueprint for Dance; providing in-service training for Occupational Therapists and Physical Therapists who work in the school system; advising principal). As a result of her ground-breaking doctoral research on "The Role of Physical Activity in Violence Prevention Programs for Youth," Martha Eddy works as an independent educational consultant or in conjunction with Educators for Social Responsibility and Project Renewal/The Tides Center in schools and community centers throughout the country inclusive of New York City public and independent schools. She played the role of Senior Program Advisor in the development of Project Renewal's Stress Reduction Days for the NYC public schools in the Ground Zero region post 9/11.
She continues to deepen her research and teaching methods regarding violence prevention in schools and recreational centers across the country by implementing her Peaceful Play Programming. She is currently writing numerous articles and a teaching manual on this topic. As part of her Embodying Peace classes she leads workshops with adults or children in conflict resolution, violence prevention, body awareness, non-verbal communication, neuro-motor strategies in education, stress reduction, the use of the arts in socio-emotional education, as well as related fields.
Martha Eddy has also been a research associate of the Kinesiology Department of San Francisco State University and is a Senior Research Associate with the Laban Bartenieff Institute of Movement Studies. She has piloted a study of the effects of aerobic exercise on aerobic capacity and self-perceived vitality amongst women who have been treated for breast cancer. This has involved pre and post surveys of participants' experiences in a flow-based aerobics program with special attention to lymphatic drainage through full rhythmic dancing that Dr. Eddy designed called Moving On Aerobics. She is currently involved in two research projects. In one study, sponsored by the Body-Mind Centering Association, Martha is working with Dr. Christine Kris (neuropsychologist, researcher, and educator) on quantitative polygraphic and correlated qualitative study of the developmental movement performance of people with brain disorders. The other study is with the Medical School and Dance Department of the University of Calgary and involves the integration of qualitative movement observations in the detection of special needs for the young child. The goal of each study is to develop a movement based assessment tool that has validity in diagnostic and therapeutic environments.
Martha Eddy is an avid arts advocate with a specialty in dance. Through the power of physical movement she has found that any person or group can become better at feeling life's satisfactions, embody peace, and contribute to creating stronger and happier communities.
Martha lives with her family in New York City where she is active in her daughter's public school.
For more information on Martha's offerings, download our brochure.
Professional Bios
CKE Professionals provide Classes and Private Sessions
Martha Eddy is joined by:
CKE Dances Teacher Biographies
Rochelle Austin AFAA certified fitness trainer, Capoeirista and "Praise Dancer" offers Introduction to martial arts through Capoeira Basics for All. Rochelle takes basic rhythms from Brazilian martial arts combined with music and song to make a fun filled class for anyone interested in movement and being in the body. Along with movement arts Rochelle is a practitioner of Thailand Yogic Touch; a bodywork art that focuses on relaxation, flexibility and stress reduction. She is the mother of three children.
Sherry Greenspan*
is a dancer/choreographer/ filmmaker/movement educator/Pilates practitioner who has been studying, performing and teaching in NYC and Philadelphia for 14 years. She has studied SOMAction Movement Therapy Training and has served on the faculty of Harkness Dance Center at the 92nd Street Y, the JCC, and The Roosevelt Island Theater. She maintains a private practice as a Movement Therapist/Educator, teaches classes and is a performing artist. Sherry is also on the Moving On Aerobics faculty.
Elizabeth Howe Verrill, MA Special Educator & Tomatis Expert
Worked at the Wellesley Perceptual Education and Research Center where she was introduced to the Tomatis Electronic Ear in 1967. After using the Tomatis method at The Kingsley School in Boston Verrill became co-founder and co-director in 1970 of The Willow Hill School in North Sudbury, Massachusetts. While studying at Lesley College she became affiliated with Dr. Berry Brazelton and with Dr. William Condon of Boston University. Since then she has worked individually with children in the Boston area and now in Amherst Massachusetts where she founded her own Listening & Learning center in 1988. The children that she has worked with PDD, ADD/ADHD and Dyslexia have profited from the Tomatis Method and her work with learning, handwriting and balance.
Dafna Izcovich
Is an artist and a photographer with a BFA from the school of visual arts, and has also studied at the Royal College of Art in London. She works mainly on collaborations and installation art and is currently finishing a second bachelors degree in psychology with a concentration on child development and art therapy. Dafna has worked with children both in school and home settings. She is also an avid mover having studied qi-kong, reiki (I+II), and yoga. At CKE she will provide academic tutoring through the arts as well as art classes.
Ron Lavine, D.C.
Is a Doctor of Chiropractic specializing in neurofascial treatment (NFT) (working with the connective tissue to stimulate the nervous system) and CranioSacral Therapy. He trained in Connective Tissue massage with Irmgard Bartenieff and has been on the advisory council of the International Somatic Movement Education and Therapy Association for 10 years. He is also involved with the Academy of Neural Sciences. He also directs a training in neurofascial treatment. At CKE he provides evaluation, lectures, and sessions for children and adults using a combination of chiropractic, NFT and CS methods.
Scott Lyons
teaches creative movement and integrative therapeutic arts to children with special needs. He is also a somatic movement educator, as well as a dancer, actor, and writer, who holds a BFA from New York Universities: Tisch School of the Arts. Scott maintains his private practice integrating Cranio-Sacral Therapy, Personal Training, Reiki, Embodied Yoga, Applied Kinesiology, and Body Mind Centering approach to hands-on work and movement repatterning. At CKE he works as an academic tutor using creative arts and multi-sensory approaches. He also helps out with our Seasonal Art Day camps for school-age children.
Tom Masters, M.S.
is a Learning Specialist and Creative Movement Teacher with his masters in Special Education: Tom works with children who are struggling with reading, writing and math to find their optimum learning style, as well as working with parents and teachers o support the child at home. He is also an adjunct professor of Special Education at Pace University. He is trained in the All Kinds of Minds assessment process and has advanced training in the Orton-Gillingham method. He supervises CKE's multi-disciplinary academic tutoring through the arts program (drawing on multiple sensory experience using movement and other creative media) and provides individual evaluations and established children's individualized tutoring programs.
Cate McNider
is a Body-Mind Centering Practitioner(R); NYS licensed bodyworker (since 1991) and improvisational dancer/performer. She teaches Iyengar Yoga privately, and Gyrotonic(R). At CKE she engages children in movement and bodywork too. www.thelisteningbody.com
Marcia Monroe
Certified Teacher of Body-Mind Centering, Feldenkrais and Iyengar Yoga. She teaches yoga to children at the Bloomingdale Family Program and has a new book coming up soon called "Engaging The Child Through Yoga" Marcia offers classes and private sessions and has expertise in working with scoliosis as well.
Eve Selver-Kassell
Is a graduate of Moving On Center, where she is also training as a Somatic Movement Therapist. She is currently an Urban Teaching Fellow and specializes in teaching children using kinesthetic approaches. At CKE she provides academic tutoring through the arts.
Carolina Naess
Swedish-born Carolina Naess (nay-ss) works with children with behavioural spectrum of ADD-ADHD using Somatic movement principles and professional dance. Carolina is a graduate of The Royal Swedish Ballet School in Stockholm. She has studied with the Ailey school and danced on Broadway. Studying with the Centre for Kinesthetic Education, New York, Carolina began her personal development studying Neuro-motor development and Experiential Anatomy and went on to learn Behavioural Kinesiology, New Decision Therapy. Carolina has a BA in Child development and Learning from Empire State College, SUNY and also has a Master's degree in Dance & Somatic Well-being, University of Central Lancaster, Preston UK.
She began work with Dr. Martha Eddy at the Center of Kinesthetic Education in 2006. Carolina has developed a successful practice, working as a movement specialist for children with special needs. Through CKE she has worked in 4 schools in Harlem, New York, as well as privately with individual students. Programs included the Dr. Eddy's 'Brain & Body,' which Carolina taught at the Dream Charter School in Harlem and shared at the EduLinks Annual Education Expo at NYU in March 2011. She has been an active volunteer with the Art of Living Foundation, co-teaching children internationally in schools and after school programs. Through this experience Carolina has developed practical life skills through yoga teaching, powerful breath work techniques and meditative practice. Carolina is now a qualified teacher in the childrens' ART Excel course taught by Art of Living, as well as a qualified teacher for youth empowerment seminars (YES!) through the International Association of Human Values (IAHV). Carolina is experienced in both individual therapy and group practice.
Laura Shapiro
is a choreographer/performer with over thirty years of experience teaching people of all ages and ability: creative movement; dance technique, improvisation and composition; movement for actors; Chi Kung (the internal form of Tai Chi), Damo I Jin (Chinese Yoga); PACE (People with Arthritis Can Exercise), PACE Active and Tai Chi for the Arthritis Foundation - with an emphasis on energy, alignment and awareness.
Andrew Suseno
focuses on movement interventions for reducing stress and enhancing brain performance. He is certified as a Laban Movement Analyst through the Integrated Movement Studies program of the University of Utah. He currently he teaches at a school for dyslexic children engaging in interdisciplinary collaborations and instructing creative dance. He uses movement interventions such as reflex integration and brain/body coordination in both academic and creative arts settings with children and teens. At CKE he is an academic tutor using both creative arts and multi-sensory approaches. He also helps to organize and lead activities during CKE's seasonal Arts Days.
Ani Weinstein
is a dancer/choreographer and yoga teacher. Her art and educational expertise extends from her interest in human psychology, and the mind/body connection. She has taught dance to inner city Brooklyn youth, worked in the orphanages of northern India, and lived in Waldorf villages for children with special needs in Switzerland and Ireland. Ani is working toward her certification in Somatic Movement Therapy. At CKE she works as a multi-sensory tutor using the creative arts and assists in teaching classes.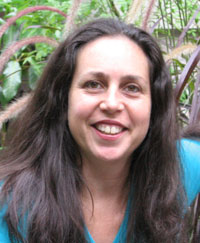 Lauree Wise, M.S., O.T./L., C.M.A.
works as an Occupational Therapist and Developmental Movement Educator in both public and private settings; including the NYC BOE and Early Intervention progams. Her lifetime experience as a dancer, educator, movement therapist, and yoga practioner informs her work. She is certified in Body- Mind Centering ®, Infant Developmental Movement Education ®, Laban Movement Analysis, and has training in Process-Oriented Psychotherapy. Lauree is on the faculties of the Spanda Yoga Teacher Training and Center for Somatic Studies where she teaches classes that provide an integrated perpective on mind-body health. She also works privately with children and adults at CKE.
Nancy Zendora
has been artistic director choreographer of the Zendora Dance company since 1977, performing both nationally in 12 states and internationally on 4 continents. Her work is a unique synthesis of eastern and western aesthetics. She is a Certified Movement Analyst and a graduate of the Center for Authentic Movement. She holds weekly authentic movement classes and workshops in the Poetics of Performance. This year she performed in Mongolia and Greece. She provides movement therapy and shiatsu.
Moving On Aerobics (Breast Cancer Survivorship program) faculty
Karen Eubanks
has conducted group fitness classes for the Department of Parks and Recreation Wake-Up New York Fitness Program for diabetic and obese youth and adults and taught at LaGuardia Community College. A certified New York City Department of Education dance educator, she has served as a teaching artist with New York Ballet Dance Education Department for six years and is a certified NYC Ballet Workout Instructor. Karen is a mom of two boys.
Bonnie Schiffer*
is currently a Pilates trainer, dance teacher, and fitness instructor using principles of Somatic Movement Education/Therapy, Feldenkrais, Dharma Yoga, and Contact Improvisation. She is strongly influenced by her studies at Movement Research in NYC, La Caldera in Barcelona, Spain, and workshops. Graduate coursework at Teachers College at Columbia University, Moving on Center in California, and SOMAction Movement Therapy Training (SMTT) led to exciting connections to body-mind-spirit.
Associate Faculty for Moving On Aerobics
Elena Lopez Sans*, RSME, ATI, AEPY
is a certified teacher member of the Alexander Technique International, and a Registered Somatic Movement Educator. Also a certified teacher of dance and yoga for over 20 years, she loves choreographing, dancing and teaching in Europe and New York. Since 1994 she has been offering her innovative classes "Alexander Technique and Yoga" through workshops and regularly scheduled classes at three learning levels, and "Dance of Yoga" which subtly involves Alexander Technique. Elena's classes have been presented at many different locations to name a few The New York Open Center and Indigo Studio. She enjoys offering private classes, groups and workshops on the Alexander Technique, Dance, and Yoga and their integration in Manhattan and Brooklyn. www.geocities.com/yogaldancelena
Nancy Bruning
Through the Parks & Rec Department of NYC Nancy was a fitness consultant for a Wake Up New York, a free fitness program piloted in several public parks in 2003. Through FFTP, in September 2005 she began a related program that is ongoing and year-round and instituted a free summertime yoga program in Fort Tryon Park which is in its third year. These programs are extremely successful and are well-attended by people from all groups of our highly diverse community. She is the author of over 4 dozen books and is obtaining her masters degree in Public Health.
*Moving on Aerobics/Movement Educators also providing classes and private sessions at CKE.